Tenement buildings bring with them a whole host of very particular plumbing problems, and it is essential that the plumbing company you choose has a complete understanding and hands-on experience with the Victorian plumbing system.  Steven Scott spent his apprenticeship learning the ropes, immersed in the systems of lead piping and communal plumbing.  From this solid foundation, and ongoing work within this specialist area, Steven can offer a very particular skill-set for the tenement owner, landlord or property factor.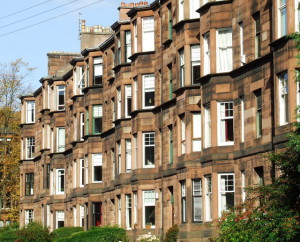 Built to house a burgeoning city population during the Industrial Revolution, Victorian tenement buildings still form a large proportion of private and rental accommodation in Scotland's cities.  Cleverly engineered, the old lead pipework was built to last, but over 100 years down the line the plumbing is often in desperate need of attention.
Equipped with CCTV, we can investigate pipes and blockages without disturbing the fabric of the building.  This saves on time, disruption, and therefore costs.
We trace and locate the problem, and being experienced in understanding the nature of shared pipework, can confirm whether it is a single household or shared plumbing issue.
Working with Property Agencies and Property Factors:
While we are a small company, we have exceptional experience and aptitude in dealing with the problems associated with tenement accommodation.  From the point of call you deal with Steven Scott directly, and can relax knowing that the plumbing problems will be located and dealt with quickly and efficiently.
Tenement Plumbing: 
Roof Gutters and Downpipes
Blockages, erosion and splits in the joints can cause rain water to cascade down the stonework of the building.  While this may appear externally as unsightly green algae and dampness, over time water ingress will allow rot to penetrate floor and ceiling joists.
Lead Piping
The original lead pipework from the Victorian era corrodes over time, and is even susceptible to the chemicals found in tap water.  This network of lead piping includes pipes, drains, valve and valve assemblies can form a complex and interlinked system, with much being shared communally.  Understanding this network, and how it relates to other linked systems, is crucial to effective plumbing work in a tenement building.
Waste Pipes
Sitting beneath old baths, or under the scullery sink, undetected leaks can go on for years.  It might be something as simple as leakage from the shower basin or the seal around the bath, but left untreated, dry rot has an opportunity to make an appearance.