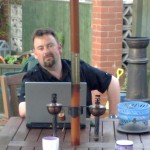 Steven Scott is the name and the face behind Scott Plumbing.  From the first moment of contact, until the job is completed to your satisfaction, it will be Steven that you deal with.
With over 20 years of experience in the business, Steven served his apprenticeship with a traditional Glasgow plumbing firm, with roots deeply rooted in old-fashioned values and efficient service.  He had to learn the ropes, and he had to learn them well!
This has stood him in good stead, and with two other reliable and experienced plumbers as the company mainstay, Scott Plumbing continues the same tradition.
Friendly and approachable, Steven is happy to discuss options and advise on the best way forward for his customers.
Please feel free to get in touch for a chat, and to 'chew the fat' on ideas you have.